The Start of the Search
Late September 2012 - I start thinking I might actually get my own Hybrid Vehicle, with the first candidate being the Venerable Toyota Prius! Since the plan is to add an aftermarket Battery Pack after buying it to make it a Plug-in Hybrid, I chose to look at older models off warranty so there would be no question on that area.
I started my Search looking for the 2000-2006 Prius., using the Auto Trader Website. I found quite a few listings and even something under $4,000.00 (a 2001 Prius Gen 1, for about $3,200!) Even today - as I start this blog - I see
Auto Trader lists about 5 between $1,000 and $10,000
within 250 Km of Toronto!
I settled on targeting the
2004 model year
as a good start as I found a good selection of them. The first one I found - a Black one - was available for just $5,000.00 and when going to see it at AM Motor Sales - and even in discussion the price came down by 10% to $4,500.00 but +$200 for Refinishing the hood, and they were willing to even take full payment by credit card. On Taking it for a Test drive - it felt unreasonably rough, with rattling and other noises emanating from underneath. Unfortunately - Black is hard to wash, and it had been in a couple bumps listed as accidents on Car Fax - Rear Bumper and left front Fender, causing some concerns at home, plus it was quite high mileage at ~ 355,000 Kms, so we let it go and continued our look.
(I see it is no longer listed on their web site - so he must have found a person comfortable with the car and sold it!) Good dealer and good staff, just not the right car for us.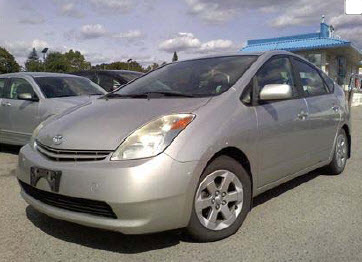 2004 Silver Prius with 240,000 Kms.
Next we went to see a Silver 2004 - Listed at Islington Chrysler Dodge Jeep FIAT, and with just under 240,000 Kms I felt it should be OK. However - when I got to the dealership to see the car, and saw blocks of wood under the passenger seat - apparently bolted to the seat and car (to Raise it up?), and how dirty it was, plus really rough splotched paint covering a bit of rust or damage around the wheel well arch, I had some fast misgivings on that one! When they then said they were selling it - AS-IS - that was the end of that - even after looking at the under-body on the hoist. Plus - it was listed out at $6,973.00 - which I guess they felt was a good price!
2004 Maroon Prius with 185,000 Kms
The Next car we went to see - a Maroon 2004 with a Bug Deflector on the hood and just about $500 more than the Silver one, but with just under 185,000 Kms listed, and No Accidents, it looked like a much better option. Upon seeing it, and taking it for a drive - we liked it a lot better than the first one we say - even at 50% higher Price (but about half as many Kms over the same time frame!).
Final Decisions
We left the car with a $500 deposit and a plan to have our mechanic of choice to inspect the car - including hook it up to the Prius Diagnostic System. Once that was done and we talked with the mechanic - we felt confidant in going forward with the purchase, and the Dealer was happy to learn about our mechanic - Mony from
Autodex Prius Rebuilder
!
IMS Motors was decent to deal with, and also let us buy the car outright by Credit Card - but we did split the Credit card fees 50-50! As it was late in the day - they did the transfer the next day and brought it to our home and dropped it off the next day - October 10, 2012!
So - how did our purchase compare with other Drivers? What is the most popular Hybrid - or Most Popular Prius? Read:
Toyota Prius Hybrid Family: Which Models Are Most Successful?
Next Post - First Drives and some Pictures of our car after we got it!